Paper shopping bags have always been a convenient option to carry stuff or gift presents to your dear ones. Not only that, custom paper shopping bags work as a pocket-friendly media to advertise your brand. Kraft paper bags have come a long way from monotonous brown bags to beautifully designed, colorfully printed recycled paper shopping bags.
Shared below is the extensive range of Wholesale paper shopping bags with handles and kraft paper bags for wholesale that suit different needs and requirements.
Printed Boutique Paper Bags
You can have your own printed boutique paper bags made to order for your business or even for a particular event. Premium quality kraft paper bags make a fantastic choice over regular paper bags.
Jewelry Paper Bags
A good jewelry deserves a classy jewelry paper bag to carry it. Have the class apart customized paper shopping bags to have your customers carry their prestigious purchase in style.
Printed Favor Gift Bags
Giving a gift or party favor in a beautifully printed favor gift bag will always add on to the experience of gifting. They come in exceptional prints and lovely colors and make gifting so much easier and great looking.
Solid Color Gift Bags with Handles
If you wish to keep it simple then there is nothing better than solid color gift bags with handles. You can go for bright reds to sober whites depending upon your choice and the occasion you are buying them for.
Paper Holiday Retail Shopping Bags
Retail shopping bags are the most common kraft paper bags for wholesale. Every brand prefers to have its own shopping bag which works as the moving billboard for the company and promotes the brand wherever it goes.
Luxury Rope Handle Gift Bags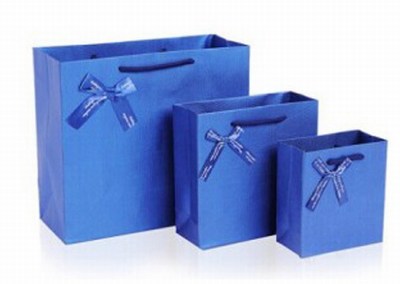 If you are looking for something exclusive for a special occasion then you can opt for luxury rope handle gift bags that are perfect pick to add more elegance to the event as well what's there inside the bag.
Printed Shopping Bags with Brown Interior
If you don't wish to spend a lot on the kraft paper bags then you can choose the printed shopping bags with brown interior that look graceful and solve the purpose in a fantastic way.
Bright Colored Matte Shopping Bags
For those who don't like the shine finish, matter shopping bags in bright colors make a fantastic pick. The brightness of colors and matte finish balances beautifully.
Metallic Shopping Bags
For all those who desire for shopping bags that are forever and are also eye-catchy, metallic shopping bags are a desirable pick. They come in metallic colors to get the attention you desire.
Colored Tint Kraft Shopping Bags
If you don't like the regular recycled paper shopping bags then you must try the colored tint kraft shopping bags which are unique in their appeal and style.
White Kraft Shopping Bags
Another evergreen choice of paper shipping bags are the white kraft shopping bags that are perfect for any need and occasion. You can have these paper shopping bags with handles bulk to always stay sorted.
Recycled Kraft Shopping Bags
Using recycled kraft shopping bags is the best way to use kraft paper bags as they don't hurt the environment and make a responsible choice.
Glossy Shopping Bags
If matte is not your taste then try these glossy shopping bags that have the perfect shine you desire. They will certainly have your shopping bags stand out in crowd.
Custom Printed Paper Shopping Bags at Wholesale Prices
Whether it is a different style or print or name you want, with customized printed paperbags available at wholesale prices, you have nothing to worry.
At PrintWeekIndia.com, we are dedicated to design the most exclusive custom shopping paper bags for you. We offer a wide range of recycled paper shopping bags for our clients to choose from and promise to personalize them as per your choice.